WELCOME to the official web site of :
Creators Cup
This is the place where we proudly present our stuff to the world and to our fans...
This is the place where we proudly introduce ourselves to the world and to our fans...
This is the place where we proudly invite you to give us feedback about our world...
This is the place where you have the chance to contact us if you have a dream that should come true...
The Team of CC
13-06-13:

Müll - You have to see it!

Behold the official poster for Mülll - der einzig wahre Trashfilm! The movie will be shown in the Moviemento in Linz at the following dates:
June 20th 2013 at 21:00 Premiere
June 28th 2013 at 22:30
July 5th 2013 at 22:30
Tickets are available starting one week upfront at the Moviemento cinema. Be there!!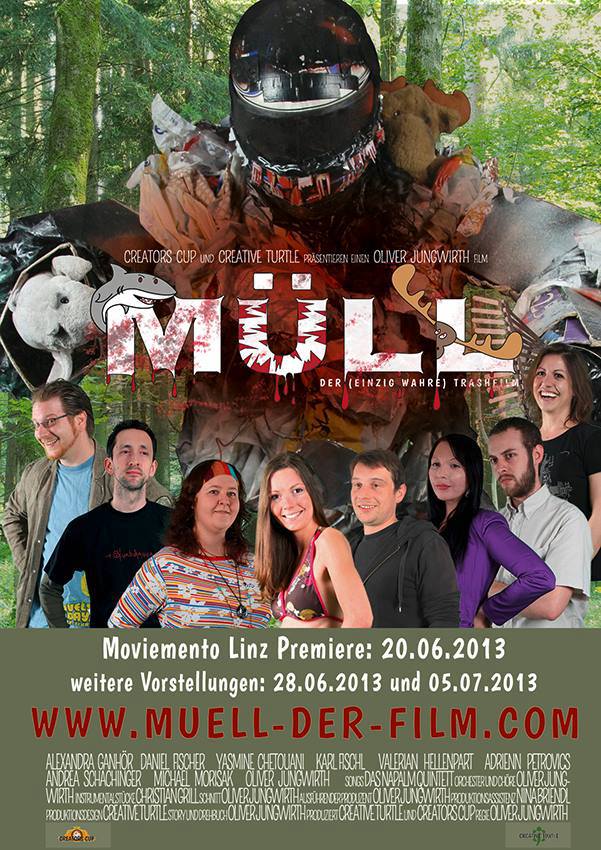 26-05-13:

Müll - Der Trashfilm (aka Trash - The trashmovie)!

The movie is finished!


"Müll - der (einzig wahre) Trashfilm" is an Independent Produktion by Creative Turtle in cooperation with Creators Cup.

The movie is a trashmovie with humor, irony, suspense, action and lots of charming characters you will remember.

You can find all the important things at http://www.muell-der-film.com/ (in German). World premiere is on June 20th 2013.
02-09-12:

New movie!

Oliver surprised us with a greate new idea for a movie. We all agreed, that we wanted to make this movie this year and so Oliver soon gave us a script to read. He also found a few new faces for this movie. Summer came and went and now we're nearly done shooting. One thing is already certain: This is going to be a great movie!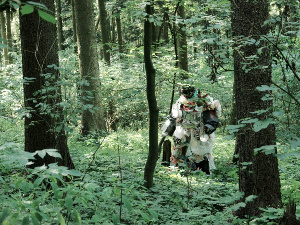 18-01-12:

Run finished!

The music video to "Run" by Aquarian Age is done! Watch the video and read more here.
07-10-11:

You better "run"

The music video for the austrian band Aquarian Age is almost completed. Watch this space for more information.
07-04-10:

New (old) movies

Oliver put his "old" movies "Zwang/Haft" and the music video for "Perfect Day" (Aquarian Age) online. For the first time there's also a "long and silly"-version available.
17-03-10:

9 m m

Martin presents the experimental shortmovie "9 m m"
22-01-10:

Public showing of Bluadsauga Creators Cut

BLUADSAUGA - Creators Cut will be shown on 30th January 2010 at Ann & Pat (Directions). We'll start at 19:30 with free entry!
03-10-08:

Bluadsauga shop has opened

Haven't you always longed for "Bluadsauga - The movie" merchandising products? Then visit our new Bluadsauga shop, where you can get all the goodies you always wanted to have!
10-08-08:

Creators Cup proudly presents "Nick Needle"

This thriller tells the soundless story of a delicate drug deal ending in a sensational shootout.
You can find the details at http://nickneedle.creatorscup.at.
01-07-08:

Creators Cup is now a club

We have formed a club called "Creators Cup Verein zur Unterstuetzung von Filmschaffenden". Yippie!
23-05-08:

Monod published

Oliver published his book "Monod". The rest of Creatorcup congratulates him on this truly terrific news. You can find more information on "Monod" at http://www.monod-das-buch.at.tt.
17-12-07:

Creators Cut released

Today Bluadsauga Creators Cut was release and the new homepage is online. Enjoy!
15-10-07:

Creator's Cut done!

It has arrived. The Bluadsauga CREATORS CUT is done, as is the DVD. We'll go into production (may take a little longer) and then the public will see it as well. No excuses. The subtitled english version for our non-german speaking fans is nearly done and will be sent to our friends abroad (yes, that's you, James!).

That's the cover, done by our everything-but-average artist Martin Nausner, as well as the contents:
DVD contents
Bluadsauga (Creators Cut)
Trailers of Bluadsauga and ZeitRaum
Commentary by Oliver
Introduction Creators Cut - version by Oliver
Short "in movie jokes" - featurette
Short "movie mistakes" - featurette
As soon as we know, where and when Bluadsauga will be shown, we'll let you know.
04-07-07:

Bluadsauga Director's Cut

Oliver could not keep his fingers from Bluadsauga and gave it a completely new cut. The director's cut in 16:9 features besides the (mandatory) new cut also new music, new making-of and a new trailer, which of course you'll get to see here at creatorscup.at.

Additionally the long-sought translation of Bluadsauga is also in the works as well as another big screen showing. Details will follow.
11-06-07:

English Bluadsauga moviepage

Well well, this was overdue for quite some time, but dear David forgot to upload the pages.
Anyways, upon surfing to http://creatorscup.at/bluadsauga you will be checked for your browser's favorite language and then you will be transferred to the appropriate pages. If any problems occur, please post a message to the guestbook or send an e-mail to office at creatorscup.at.
07-12-06:

Bluadsauga moviepage online

Bluadsauga has a new home, you can find it at http://creatorscup.at/bluadsauga. There's more stuff on Bluadsauga than here at creatorscup.at including a gallery and wallpapers. Even though it's in german, you should find your way around. :)
06-11-06:

Public showing at WIST

Oliver did it again. Bluadsauga will be publicly shown in the WIST bar on Sunday, 12. November 2006, starting around 9 pm. Free entry, just come, watch and buy some DVDs :)
31-10-06:

More details on Bluadsauga-DVD
Disc 1: Main movie
Bluadsauga - the movie: 67:27 min
Making of:

Partyroom: 8:05 min
Preparations to shoot: 15:13 min
Bluadsauga - music video: 4:22 min

Trailers:

Zeitraum: 3:24 min
Bluadsauga - Trailer 1: 1:28 min
Bluadsauga - Trailer 2: 1:02 min
Total runtime: about 100 minutes
Disc 2: Bonusmaterial
Shooting impressions: 5:41 min
Interview with Oliver: 20:10 min
Interview with Samuel: 1:36 min
Interview with der Crew: 49:03 min
Scene of a bloodscreen: 2:29 min
Outtakes: 23:33 min
Total runtime: about 100 minutes
26-09-06:

Guestbook online

Creatorscup.at has a new sensational attraction: its own full-featured guestbook! Don't hesitate and leave us a nice message.
10-09-06:

Bluadsauga DVD

We are proud to announce that our movie "bluadsauga" (bloodsuckers) will be released on DVD. We don't know the exact time or price for the DVD yet, but we DO know, that there will be two different editions available.

First of all the "Single-Disc" including the movie, movie-trailers and the music-video "bluadsauga" performed by the band Hinterland (the movie can be ordered with english subtitles).
The "Double-Disc" will include all material of the single Disc but will be enhanced with bonus material such as Interviews with Cast, Making-Of and Bloopers (no subtitles available for the bonus-material, sorry folks).

If all works well the DVD will be released end of september. We're really looking forward to it. You can preorder it by mailing to

office at creatorscup.at

.
20-07-06:

English version online

Creatorscup.at is now available in english as well. Language detection checks whatever language you have configured in your browser. If you like to see other languages as well, you can reach it through the links on the bottom of the page.
19-07-06:

Summerbreak

Well, there are a few ideas in our heads, mostly about short-movies and such things that we would like to put into practice every now and then. So, if you want to take part in it: Fine – you're welcome, make yourself comfortable and mail us at: office at creatorscup.at. Don't be nervous.
13-07-06:

>> Bluadsauga <<

Bluadsauga (bloodsucker) is a vampire movie mostly made by Oliver Jungwirth. The movie was done in cooperation with the culture club Kunst-WerkT and Creators Cup. Bluadsauga is the first project by Creators Cup and the biggest (and final) movie-project done by Kunst-WerkT. So it is a very special event.

Amazingly we (well, actually Oliver) were able to organize two presentations in the cinema "Moviemento" in Linz. The opening night will take place on July, 12th and the second presentation on July, 13th. Tickets are only available under and above the hand by members of the production-crew. If the presentation will work out fine, we'll be sure to organize other presentations. Place and time will be announced here.

For curious people and those who want to know it all, here are the

details on the movie

.
12-07-06:

Creatorscup.at online

Yippie, Creatorscup.at finally goes online after a not so long development. At this moment the site does not contain much content, but that will change over time for sure.
Have fun reading, your Creators Cup team.